Some of you had been asking us for pictures of our home. Last week, when the house was clean (!), and we were expecting company, I had a minute to run around and snap a few photos. Enjoy!
Welcome to our home. As all our guests know, we don't let them leave until they sign our guestbook. : )
Yours truly in the entryway.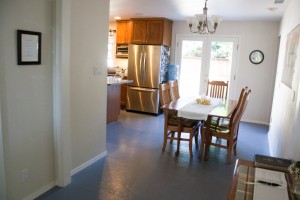 Heading to the dining area, our family vision statement on the wall.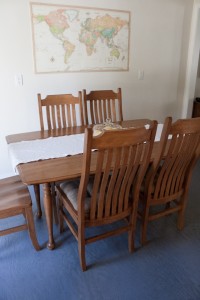 Our family meal table. We were inspired by a talk on purposeful home decorations and decided to acquire a map of the world. It fit's right into Steven's calling (as a computer guy who makes computers work in any language of the world–yes his work is probably on your computer, too). Plus, the map is mighty handy for jumping up in geographical and historical conversations. We love it! : )
Our kitchen. Notice the valence is finally installed!!!!!! Hooray : )
Another view of the kitchen. A new rug under the sink is quite handy for drips and drops (I'm famous for these!).
The "Lahbrawree". You have to say it with an english accent. This room's theme is history. We were excited to discover an antique framed lithograph of Augsburg, Germany at an antique shop for only $12. The workers there were hoping we would decide not to get it, so they could. : ) Augsburg is the location of an important meeting in which Martin Luther helped to create the Augsburg Confession (Did I get the story right, Dad Serven?).
The other corner of the library has a new to us cozy chair for curling up with visiting little people. One of Steven's inventions is in this picture. Can you guess what it is? Don't pay too much attention to the dead fern. Yes, I've managed to kill it. Happily, Lydia brought me non-killable plant reinforcements from the midwest: a philodendron. Now all I have to do is plant it!
The Music room, where music is made. Literally. We were very blessed to get some special wooden chairs from Steven's grandparents via Mom Loomis. Thank you, Mom and Grandpa and Grandma Schmidt!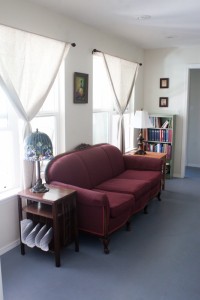 The other side of the music room boasts a bookshelf of our music related books. Some of the more unusual ones include a book on conducting from the 1920s, one on English hymn authors, a fabulous book from our sister and brother in law about music in the church (highly, highly, highly recommend!!!), reference books on writing harmony, composer biographies, and lots of hymnals and psalters.
Moving back into the hallway, we have the hopeful-girls-room. It's still waiting for girls, but it doubles as a guest room in the meantime.
We were just given this gorgeous dresser by a family in our church. J and K, you guys are so kind!!!! The oil painting fits just perfectly with it, don't you think? It was painted by my grandmother.
For all you tech-y readers out there, I must confess: I am going to disappoint you. That's right, I completely forgot to take a picture of your favorite part of the house. The Server Closet. Complete with lots of servers who live there. Actually, it's been having more dominion taken over it, so now it has a little rolling cart and a laundry basket, too. So, both Steven and Rebecca like this room now. : )
But not to disappoint you completely, we do have pictures of the *STUDY*. Duh, duh, duh, duuuuuuuhhhhhhh!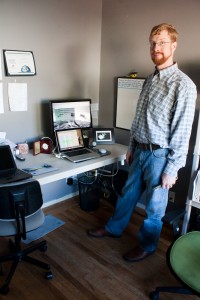 This has been one of our most challenging rooms to have dominion over. Phew. But, we did it, again. This time, both of us worked on creating some new systems that work for both of us. Novel idea, isn't it? Since this picture (last week), it's actually staying pretty good. So, we are hopeful that we have yet again turned over a new leaf. All joking aside, the study is possibly the most productive room in the house. The Lord was convicting me of this, and how I need to serve my dear husband by making his work space a refreshing and delightful place to be, instead of the location where all things get stashed. I think you all probably have a place like that, right? : )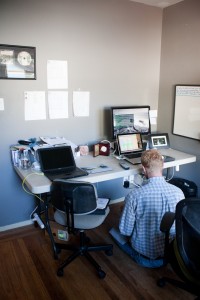 No. Steven doesn't usually sit on the floor, but he was rigging up some nifty ways to keep wires off the floor from collecting dust.
It's progress. Bear with us, people. We aren't perfect either. [Editor's Note: Like anyone *thought* that we were! Ha.]
The other side of the study boasts our wedding sign, which some of you may remember. : ) Happy sigh. Sweet memories!
Steven has installed several handy shelves and towel racks in the guest bath. This has been most helpful for our company, especially the time we had 14 people staying with us for several nights. I kid you not. We are so blessed to have so many wonderful friends and family! : )
So, here is a scary room. Yes, we still have one left. But that is better than 4 scary rooms!!!! It's actually had the organizing started in it, but it needs a bit more before it is transformed into the hopeful-boys-room and additional guest room. We are starting to have a collection of fun boys adventure furniture for this room. Can't wait to set it up . . . but a bit of work first.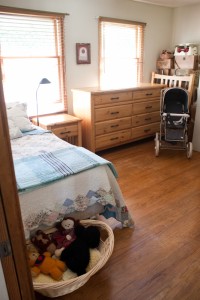 Here is the crowning glory! The hopeful-nursery and current sewing room!!!! Do you remember what it used to look like? Yes. It was pretty bad. A wonderful amazing sweet lady in our church came over lots of times to help me clean it out. It still has a bit of work, but it is completely usable for a guest and sewing room right now. Note to all small people: this basket of stuffed animals and dolls are the favorite play things of most short people who come to our home. Make sure to ask about it if you come for a visit.
The sewing area. Which has been getting a work out lately. Hi Sara!!! : ) And yes, you all may notice a few cute baby things that church families have been giving us in the pictures. They are so kind, hopeful, and prayerful for us. We appreciate your prayers too, that God would expand our family in His way, in His time.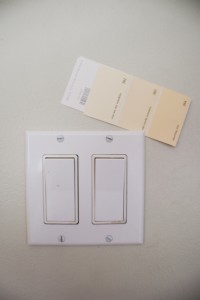 In fact, one of the hopeful projects my dear Steven has for me to work on, is to paint the nursery. We are thinking about the light yellow color, aptly called "You are my sunshine". : ) Yes, I'm choosing it on purely sentimental reasons. I'm planning to start next week!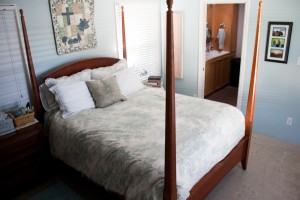 Speaking of painting, I painted our bedroom a few months ago. What do you think?!
Our little love seat: another Salvation Army find. I love that store!
One of our favorite new "rooms" of our home, is our porch! We saved up and found a little porch set, that has already proved it's weight in gold.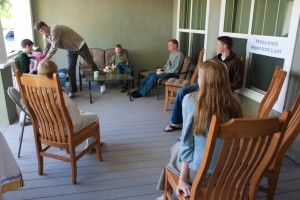 We've had lots of company on our porch lately, but have to we admit, this was our favorite group. : )
Our delicious spread for brunch.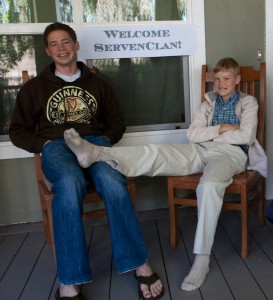 Chillin' on the porch.
Dear Dad and Mom Serven.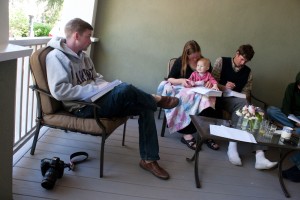 Peter giving Bella the evil eye.
The Hungry Toothpick, in person.
My sweet sisters working on a project Steven had for us all to do.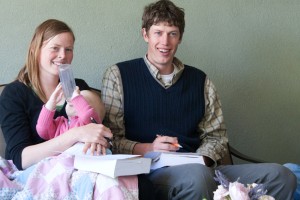 The Wisconsin contingent.
And later, having fun with the Serven Clan abridged. As you can see, the porch is very versatile. We love having meals out side, both with company, or just the two of us. It's certainly our new favorite room. Now, if we can just convince Wimbrandis that it shouldn't be *her* favorite room, we'd be good. Wimbrandis is a neighborhood cat who has adopted us. Her name? Well, it's a long story for another time.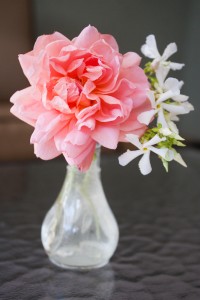 So, that what our household is looking like these days. How about yours?
P. S. Flashing back to the present (at the time that most of the house pictures were taken), this was the company that we were expecting. My dear Nana. : ) She brought us a lovely tart.